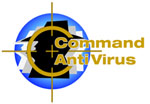 "This is a serious solution for experienced network administrators who need to keep their Exchange Server in prime condition."
~SC Magazine
| | |
| --- | --- |
| Command AntiVirus� for Microsoft Exchange is a server level solution designed to protect your system by securing all potential access points from harmful viruses. | CSAV for Microsoft Exchange employs HoloCheck� scanning technology to stop both known and unknown viruses before they can infiltrate your organization. |
Features and Benefits
On-Access Scanning runs continuously in the background, monitoring incoming and outgoing email. Email attachments are automatically scanned for virus infections; this is performed without damaging the attachment. The On-Access Scan Task can be enabled, disabled, and configured depending on your requirements.


The On-Demand Scanning feature scans email attachments from both mailboxes and folders upon request. Scans can be scheduled for a specific time, and multiple scans can be created/configured.


The Quarantine feature allows administrators to place infected attachments in a secure location for evaluation, disinfection, or deletion. It then replaces the original attachment with a new attachment that contains a description of where the virus was found. The administrator can customize the file name of the new attachment and the additional information message.


CSAV for Exchange's Reporting function allows administrators to specify the information to include in a scan task's activity log file. Log information can include such items as Infected Items Detected, Infected Items Deleted, Infected Items Quarantined, Infected Items Disinfected, Date and Time, and User Name.


The Tools Menu includes the following features:


CSAV Alerts allow administrators to send trap notifications through Simple Network Management Protocol (SNMP) (2000 only).
Virus Notification gives administrators the ability to send messages to additional administrators when an infected attachment is detected through on-access scanning.
Event Viewer allows administrators to view monitoring and troubleshooting messages from within Windows Event Viewer.
Performance Monitor shows administrators how CSAV is being utilized (2000 only).
Outbreak Manager allows administrators to define and configure rules to manage infected items received by the Exchange server (2000 only).
Automatic Update allows CSAV to update automatically with the latest program files and virus definitions.
Options allows administrators to change the name of the Exchange Server administrator, chose not to send an alert message, and set the quarantine folder that temporarily holds infected emails.
System Requirements
CSAV for Microsoft Exchange 2000:


Pentium CPU
96 MB of RAM (128 MB recommended)
30 MB available hard disk space
Microsoft Windows 2000 Advanced Server with Service Pack 2 or higher
Microsoft Exchange 2000 Server with Service Pack 1 or higher

CSAV for Microsoft Exchange AVAPI:

Pentium CPU
96 MB of RAM (128 MB recommended)
30 MB available hard disk space
Microsoft Windows NT Server 4.0 with Service Pack 3 or higher
Microsoft Exchange Server Release 5.5 with Service Pack 3 or higher

CSAV for Microsoft Exchange MAPI:

Pentium CPU
96 MB of RAM (128 MB recommended)
30 MB available hard disk space
Microsoft Windows NT Server 3.51 with Service Pack 5 or higher or Microsoft Windows NT Server 4.0 with Service Pack 3 or higher
Microsoft Exchange Server Release 5.0 or later
Home � Purchase Center � Virus Center � Support Center