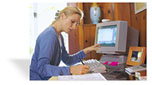 Interested in learning more about Command Software's antivirus products? Below are links to various magazine reviews, as well as further literature on Command's product line.
Note: This information is presented in PDF format;

you will need to have Adobe Acrobat on your system in order to access these articles. A link to download Acrobat can be found at the bottom of this page.