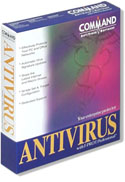 "I just wanted to take a minute to let you know what great people you have working for you. I don't know how much you pay them, but I can tell you.....it's not enough.

Beth (of OSCAM TECHNICAL, a Command Reseller) patiently answered all of my questions, and when there was something she couldn't answer, she asked me to please call back when her husband came home. Ray (of OSCAM TECHNICAL, a Command Reseller) worked on my computer over the phone well into the night, trying to get it working properly. It took him three days, but he finally had it up and running again. I did not have to constantly call him to ask when he could get back to me to finish the job, he promptly sent me email after email stating when to call to continue the work. He worked well into the night on Friday, then spent most of his Saturday working on my computer. I have never seen such relentless diligence from any company's tech support people. His patience is unlimited, and there was no "Okay idiot, this is what we are going to do" attitude like most tech support people have. He even followed up on a phone call to my friend's (the one who sent me the virus) tech support guy with the info he need to eliminate this virus. In my opinion, that is outstanding customer service.

I can't say enough good things about these folks. You are blessed to have them as tech support for your product. I know that it has been my good fortune to have found them because I could not have afforded to buy a new computer, but I certainly was ready to throw my hard drive out the window."
Peggy R.
SULLIVAN, IL
6/2/2002